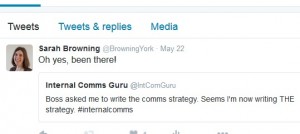 Several of us at Holy Brook find that a client often starts by working with us in one area and ends by needing support in a different area – which is one of the reasons our team with complementary skills love working together.  Here Sarah explores a common issue facing communications professionals:
I and many of my fellow internal communication professionals will be familiar with the situation expressed in this tweet from Internal Comms Guru that I spotted on Twitter recently. More than once in my career – both in-house and as a freelance specialist – I have asked for details of the strategy or business case for a project so that I can write the key communication messages to support it and been met with blank looks. It never ceases to amaze me how many things happen at organisations without a clear reason and based on instinct (or whim) alone.
The lack of a strategic business case doesn't always automatically mean it's a bad idea, of course. Sometimes that powerful gut instinct or 'nose for success' can be extremely accurate and beneficial. Companies that follow a flexible approach to trying new ways of working and developing new services can often claim to be truly innovative. But it does make effective communication tricky and it can impact on employee engagement too.
Last year I worked with a not-for-profit organisation who had asked me to carry out an audit of their internal communications. They had grown in size very quickly and the methods of communication that had served them well as a small band of like-minded souls in one room were no longer fit for purpose. One of the themes that came through my research was that employees were confused about why some people's ideas for new lines of work were taken forward and others were not. Without clear communication about what was happening and the reasons why, employees were becoming disheartened and disengaged.
So what can you do if you find yourself in this position? I believe that one of the key skills of good communicators is to ask questions and really listen to the answers. This can be really useful in getting to the bottom of what is going on and why. We all live with a certain level of ambiguity, but having a clear enough view of what is happening so that you can at least put together some draft messages is a good start. And in my experience, once you have something to share with your client or stakeholders, this can act as a mirror to show them what they're currently giving out as their messages. This can in itself be useful, as it provides an opportunity for them to reflect on whether that is what they really mean. You will often find that you have either hit the nail of their business case on the head or that you are wide of the mark and they feel obliged to put you straight.
I am aware that things are rarely as black and white as this in real life, but having a plan of your own is a great way to move things forward. What do you think? I'd love to hear your experiences, either in the comments below or via email.
Post originally published on Sarah's own blog